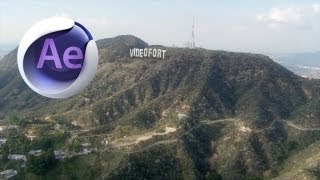 At VideoFort we've all seen that iconic helicopter shot over Los Angeles, flying towards the Hollywood sign and wished we could alter what the sign says as easily as prices at the gas pump seem to change. Well, now you can with Dan's new After Effects and Cinema 4D Hollywood Sign tutorial teaching you how to first create your own 'Hollywood' sign and then believably composite it into a helicopter shot of the Hollywood Hills. In this tutorial, Dan will cover 3D Camera Tracking in After Effects and exporting tracking data to C4D. How to create textures from footage in C4D is another rad tip Dan shows us along with creating splines based on camera tracking paths, creating clouds with NURBS and PyroCluster, compositing 3D objects into live-action footage, and much more!
For what looks like a complicated effect in the end, Dan makes this one easy to pull off even for the novice C4D and AE artist with his simple step-by-step instructions. Make Hollywood (or any sign) yours with this easy to follow tutorial and VideoFort.com stock footage!
For more free vfx tutorials please visit http://www.VideoFort.com. VideoFort: The first ever Royalty Free Stock Footage Library to offer Unlimited Downloads of all HD Video Clips.
VideoFort empowers creative freedom by giving film and video makers access to one of the best stock footage resources on the planet. VideoFort is the first all HD subscription-based stock footage provider to offer its members unlimited access to some of the world's most exclusive content. In addition to high-quality stock footage, VideoFort offers free VFX templates, free filmmaking tutorials, and a creative forum where video producers can collaborate and interact.
VideoFort footage has been used in Hollywood Movies, Award Winning TV Shows, Broadcast TV Commercials, and Online Videos. Customers range from amateur videographers to professional YouTubers and world-renowned directors.