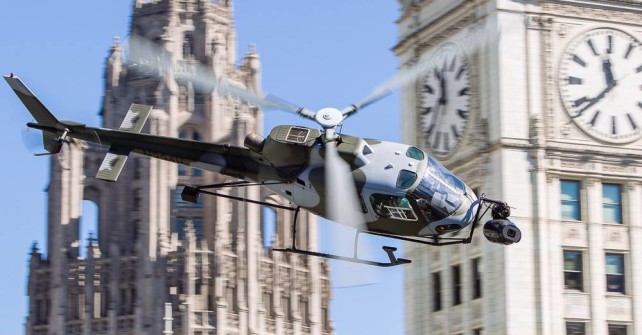 Aerial Footage – Getting Started
How did you get started in videography, and particularly Aerial footage?
Steve Gatena: While playing football in college for the USC Trojans, one of my professors gave me an opportunity to produce a video for a research assignment. I had so much fun doing it that I chose to focus my Masters thesis and entrepreneurship efforts on video marketing. While in graduate school, I was able to build the foundation for what would become a global production company. For my final thesis, my friends and I created a viral video that received over one million organic views and helped generate millions of dollars of gross revenue for my client at the time. That video was the most viewed video of its kind ever on the internet. It was partially filmed by Alan Purwin and his company Helinet, who kindly helped me with what at the time was a Masters thesis. Once I graduated, my career as an executive producer and professional video maker took off. My company REP Interactive was able to film videos all over the world for iconic brands like RedBull, Marriott, and Coldwell Banker. If it wasn't for my ability to work with Alan and use Helinet's footage, I never would have had the opportunity to create a global production company. When I realized how low quality stock footage was limiting film and video makers around the world, I decided to create VideoFort. Alan and I saw it as a way to give other film and video makers quality content so they too could push the limits of their creativity. Since then, Alan and I have been working with our team to create exclusive content that no one else has been able to provide. VideoFort is now Hollywood's largest manufacturer and supplier of aerial stock footage to companies like Shutterstock, Getty Images, Pond5, and Fotolia.
Alan Purwin: My dad influenced me to start learning how to fly when I was 16. By age 18, I began working as a helicopter crop duster in Greenfield, Indiana where I worked twelve hour days. The ink was still wet on my helicopter certificate when I headed out there. It was the perfect opportunity to accumulate flying hours and get some quality experience. After Indiana, I came back to Los Angeles and worked for a helicopter company that took aerial footage of the 1984 Summer Olympics and from that point on I was committed to living out my dream as a Hollywood Pilot. Over the last thirty years I've dedicated my life to creating the best quality aerial content, revolutionizing the entertainment industry with camera systems like the ShotOver, and helping donate my skills and services to charities like Children's Hospital Los Angeles. When Steve approached me with the concept of VideoFort and told me that he was working with his team to provide a new generation of film and video makers with the best quality stock footage, I decided that my team and I would help build VideoFort. For the last several years we have been working to giving filmmakers a massive library of aerials that they can use to create better content. At VideoFort, we are driven by the mission, "Quality Content, Creative Freedom."